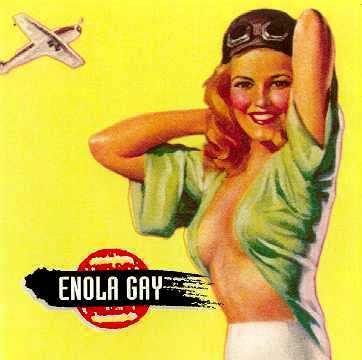 ---
Welcome to the world of ENOLA GAY
---
FEEDBACK !
Wir wollen Eure Meinung, Eure Kommentare und Anregungen ! Besucht doch einfach unser Gästebuch oder schickt uns eine E-Mail ! Auch Eure Homepage-Tips sind willkommen !
We´d love to hear from you ! Send us your comments, ideas and critics ! Just sign our guestbook or send us an E-Mail ! Also your homepage-tips are welcome !
---
Wer ist ENOLA GAY ? Hier erfahrt Ihr alles über die Band, was Ihr sowieso nie wissen wolltet.
Who is ENOLA GAY ? Here you´ll find all the information about the band you never ever wanted to know.
---
Ein paar Worte über die Musik und Text-Auszüge.
Some words about the music end excerpts from the lyrics.
---
Demos von unseren Songs zum Downloaden !
Demos of our songs to listen to online !
---
Unbedingt antesten: Interessante Web-Seiten.
ENOLA GAY´S favourite Internet-Links
Try out our links to other interesting Web-Pages.
---
Unser Gästebuch für Eure Kommentare und Ideen !
Our guestbook for your comments and ideas !
---
Die ENOLA GAY Mailing-Liste !
The ENOLA GAY Mailing List !
---
Unsere Merchandising-Seite.
Our merchandising page.
---
ENOLA GAY Live in Concert
---

---
You are visitor number

since January 24th, 1996.
Last revised June 9th, 1997.
© 1996 - 1997 by ENOLA GAY
Site design by Robby

Mitglied bei